Spirit Gear MN,
is a Locally Owned & Operated Retail Shop in Excelsior, MN.
With the Best Selection of Tonka Spirit Gear in One Location in Which Quality, Design, Size Selection & Customer Service All Help to Build Community & Belonging.
Our Story
Spirit Gear MN, located in downtown Excelsior, opened our doors in August 2022 as a retail shop selling apparel & spirit gear primarily for individuals and families associated with Minnetonka School District.  Derived out of a love for bringing people together to elicit a sense of pride, the building of community & inclusion as well as the joy it gives me in providing quality, well-designed apparel & gear for this community to shine.
It started with volunteering at my kid's elementary school in 2015 as a Tonka Pride Committee Member which is where I got my first fix in the sense of belonging to my new community and a way to connect with other parents. As my kids transitioned into middle school, I continued my journey of representing the school district, including helping with the District Sales. Encouraged to create & sell products for Tonka since I was already doing this similarly in my own business at hockey & lacrosse tournaments, my house began to take on a Blue & White hue inside!
Giving Back
With each Tonka Pride POP Up Sale my passion grew as well as my product offering, which I designed & created, along with the tally of funds to the Minnetonka School District, K-8 schools! To date the tally, beginning in the Spring of 2017 to Todays Date, Spirit Gear MN has donated over $42,000, while also supporting fundraisers and benefits from the Minnetonka Schools Foundation to the Groveland Gala to Teacher Appreciation and Student Government Heart Week etc…. most recently with the addition of being able to advertise in both the Boys & Girls HS Hockey Programs with many others in between! All of this has given me a sense of pride and appreciation to belong to this community!
Besides being a part of Tonka Pride Sales and donating to fundraisers & benefits, we also work with clubs such as Minnetonka Youth Hockey Association, Minnetonka Boys Tennis, Minnetonka Girls Softball Association, Minnetonka Girls Golf etc. along with many other Companies such as Lake Minnetonka Orthodontics, U of M Health Fairview, Thrivent Financial and Coloplast to name a few suppling them with quality products, expertly designed to meet their needs.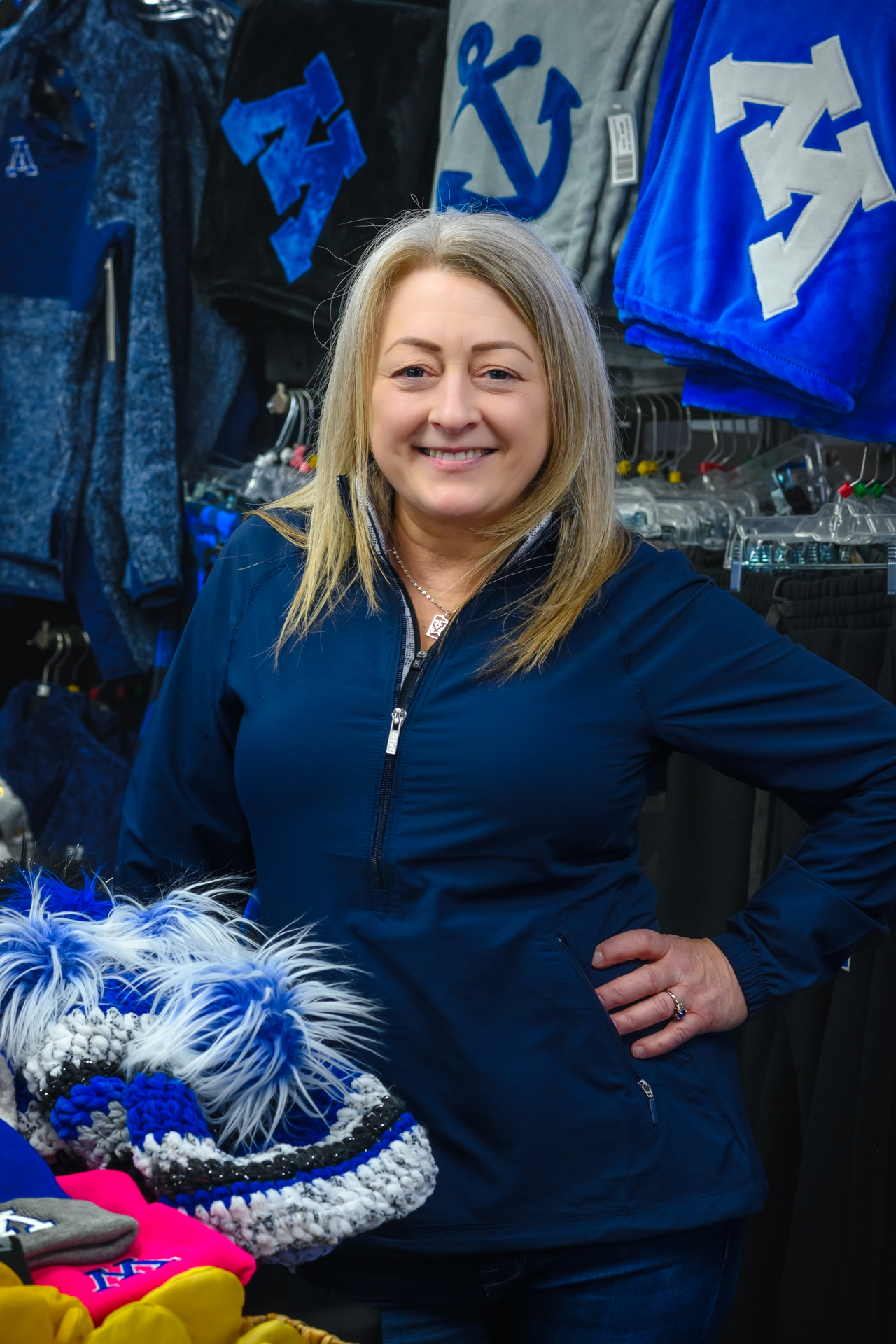 Meet Elsa
As Minnetonka Parent, I have grown to love this community and all that it has to offer. As a kid, I attended a few different grade schools, middle schools, and (2) high schools. Being the new kid in class was something that I had to get used to and it became harder the older I got. Being a part of a sports team was what helped me feel a sense of belonging, something I believe is so important in every stage of life, at every age. In my junior & senior years, I played for Bloomington Jefferson Varsity Volleyball, and Softball and gave a good effort on the Alpine Ski Team. These were my instant friend groups, but for those who don't desire to play a sport, finding a club or group to belong to is so important!
My desire to fill the gap with apparel & gear that supports community – no matter what community it is, IS STRONG!
I have a strong work ethic, believe in quality products, and have a desire to promote community. I love to see joy in the eyes of people who wear or display my products with pride. Feel free to stop in & shop or reach out to me by phone, email, or text. I will welcome you to share your community!